Sites
Site Map
The Site Map is where you manage your sites and plot out your site block/locations. From here you can add, edit and delete sites.
Clicking the site index located on the site map sidebar will zoom out to have all your sites in view. The My Location Checkbox can be toggled to show your current location.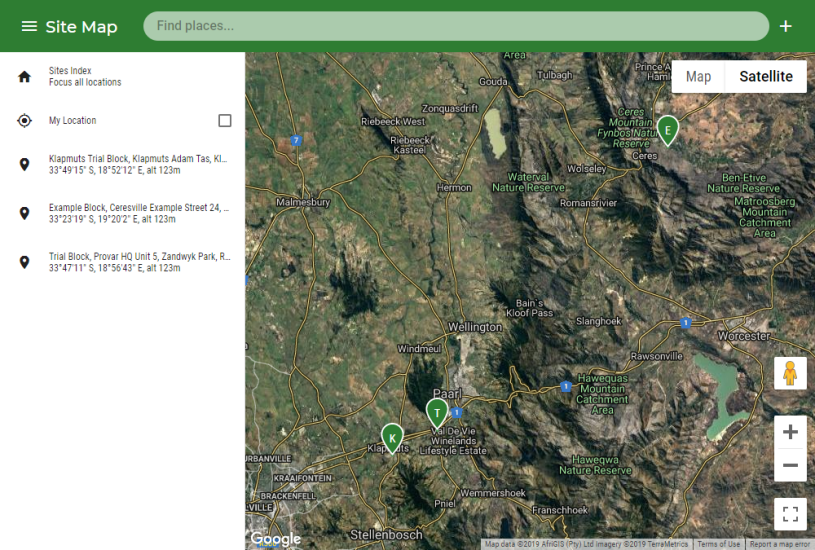 The Site Map With Three Example Sites
How To Add A Site
Navigate to the Site Index.
To add a site:

Click on the + icon to add a site/location/trial block at the top right of your screen.
In the Add Site dialog, enter the details of your site.
The Add Site Form Dialog
Description of each field.
Basic info

Location / Farm: The name of the farm / site or simply a common name used to refer to the site.
Block / Orchard Name: The name or number of the trial block / orchard contained within the site, usually a block number will apply.
Row Spacing: A commonly used distance between the rows within the block (in millimeters).
Column / Plant Spacing: A commonly used distance between trees within the block (in millimeters)

The Geolocation section describes the absolute position of the site. Hint: you don not have to manually enter these values, as it will be added in a later step.

Latitude: Geographical latitude coordinate of the site's center point in degrees North (Negative value indicates South).
Logitude: geographical longitude coordinates of the site's center point in degrees East (negative value indicates West).
Area: The extent of measurement of a surface or piece of land (in square meters).
Altitude: Altitude of block in meters above sea level (in meters).

Address

Street Address: Street address of the site.
City: In which city it is located or closest to.
Region: An area, a specific part of a country.
Postal Code: Postal code of the city.
Country: In which the site is located.
Once you have entered all the required fields, select the Save button to register the site.
Place Your Site On The Map
Select a site in he left sidebar to see it's details.
Site Map With A Site Currently Selected
Drag and zoom the map to navigate to the general are aof the site, then select Place Marker to place the site's marker in the center of the map.

Select Edit Boundary to make the marker and boundary polygon editable and further pinpoint the center location of the site.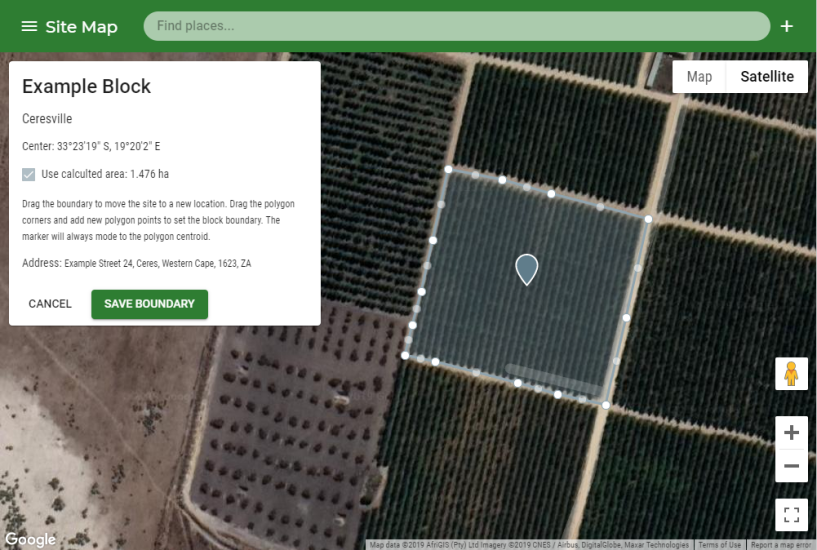 Editing A Sites Boundary
Move the marker and / or the boundary corners to the area allocated to the site. The area of the polygon will be automatically calculated.

Select Save Boundary to record the site's new geolocation, boundary and area.