Harvest Samples
Harvest Sample Index
You can go to the Harvest Sample Index Page:
By navigating to the Dashboard and clicking the Harvest Sample Index button located in the Harvest Sample Data widget.
Or by opening the sidebar and selecting the Harvest Samples option.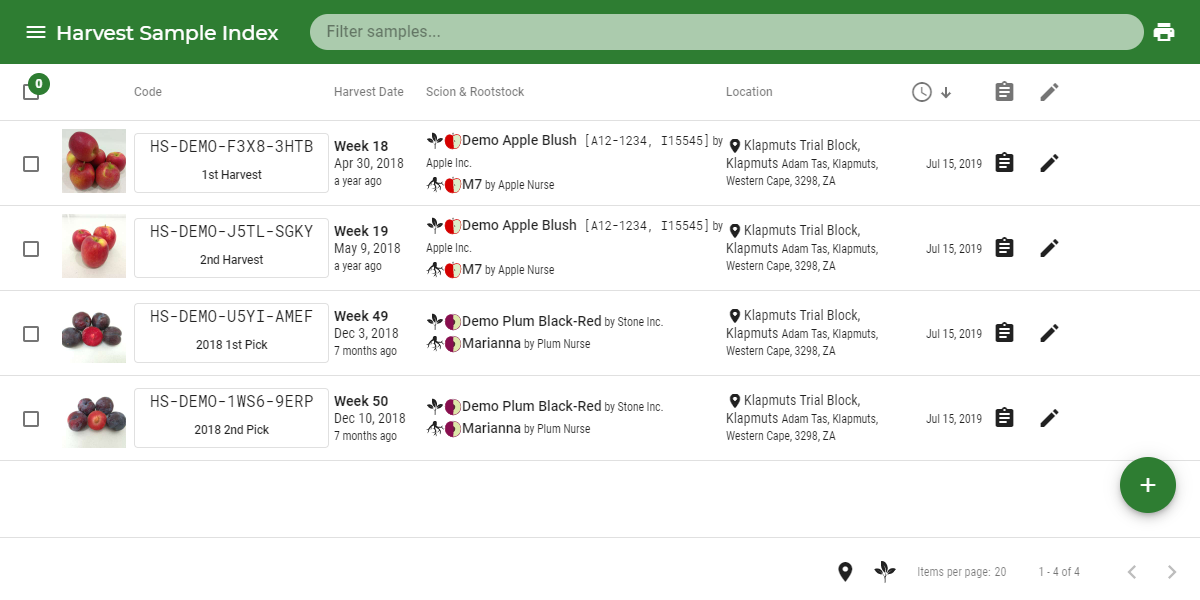 The Harvest Sample Index with demo samples
How To Register A Harvest Sample
1.Click on the + icon to open a new harvest sample form.
2.In the 'Add Harvest Sample' dialog, enter the details of your Harvest Sample:
Field Descriptions
Harvest Date: The date the sample was actually harvested.
Label [optional] : A name / label used to describe this sample.
Connect with Plant Sample: If this harvest sample originates from a registered Plant Sample, you may check this box, to create a connection with the plant and have the harvest sample inherit the associated scion, rootstock and location.

Associate with Plant Sample:

Select a plant sample from the list to associate with this harvest sample and inherit its properties.

Not associated with plant sample:

Scion Cultivar: The scion cultivar associated with the origin plant.
Rootstock Cultivar [optional] : The rootstock cultivar associated with the origin plant.
Location [optional] : The site where this harvest originated from.
3.Once you have entered all the required fields, select the Save Button to save the harvest sample.