Cultivars
Cultivar Index
Navigate to the Cultivar Index by opening the sidebar and selecting the Cultivars Option. On the Cultivar Index page you will see all your cultivars that are associated with the currently selected organisation. From here you can manage your cultivars, with some basic functionality like creating, deleting, filtering and searching. (Note that the cultivar may not have active connections in order to be deleted).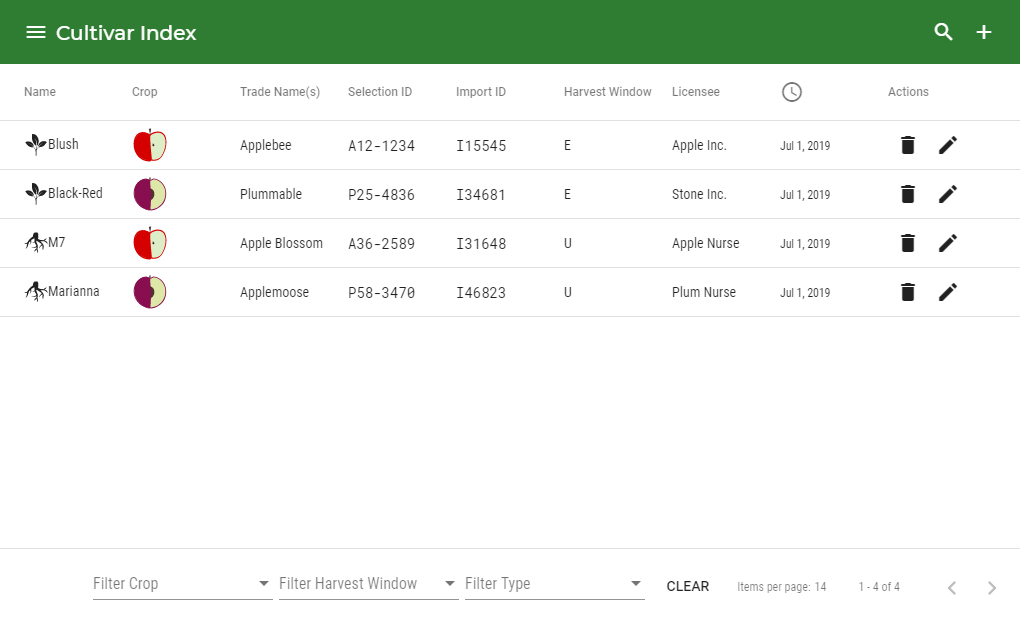 The Cultivar Index with a few demo cultivars
How To Register A Cultivar
To register a cultivar, click on the + icon, located at the top right of the screen on the Cultivar Index page, to open the Add Cultivar form.

Now in the Add Cultivar Form, fill in your cultivars' details.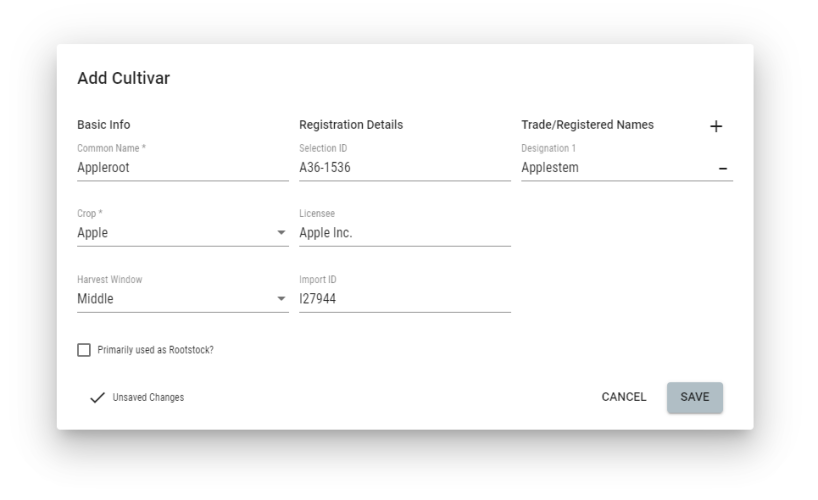 The Add Cultivar dialog filled with demo data
Field Descriptions
Basic Info:
Common name: A unique name or identifier commonly used within your organisation to refer to this cultivar.
Crop: A crop type (e.g Apple, Pear Cherry).
Harvest window [optional] : Select early, mid or late harvest window commonly associated with this cultivar.
Registration Details:
Selection ID [optional] : The selection identifier initially allocated to the cultivar in the selection phase, eg SE-01-05 and used if a name has not been allocated.
Licensee [optional] : The name of the company responsible for managing the selection or cultivar for evaluation and possible commercialization purposes.
Import ID [optional] : The import identifier allocated to the section or cultivar during importation to the country where evaluation is performed.
Trade / Registered Names [optional] : A list of known registered trade designations.
Once you have entered all the required fields, select the Save Button to register the cultivar.